When I first stumbled on the sympto-thermal method, I was lucky enough to find Groove's website. It intrigued me, and when I tried to learn more, I quickly came across Natural Cycles (an app recently approved by the FDA). I didn't know much about fertility at the time, but the price of Natural Cycles turned me off. I also ran into into the Daysy thermometer and saw that it cost over $300.
It had me like…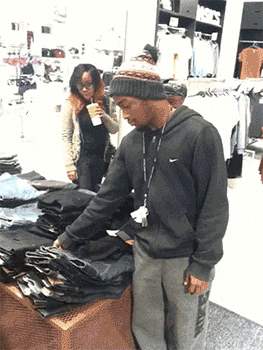 Groove's website had shown me that I could do the method for free. Luckily, a friend recommended Kindara to me soon after. Someone in the Kindara community told me to buy Taking Charge of Your Fertility and to join Fertility Awareness Method of Birth Control on Facebook. Thus, my charting journey began with a fifteen dollar book and a ten dollar thermometer. As a broke graduate student, it was an investment that I could afford.
I'm not alone in having Natural Cycles or Daysy catch my eye with an advertisement. Many women begin their charting journey when they are drawn in by the advertisements of femtech or "female fertility" devices. These devices promise to interpret a woman's fertility for her. Rather than teaching women how to tell when they may be fertile, these devices rely on algorithms and ignore other vital fertility signs.
While I am glad that these devices get the word out about natural birth control, the problem with these devices is twofold. To begin with, the devices are pricey investments that many families may not be able to afford. Many people may be misled and believe that it costs hundreds of dollars to use a form of fertility awareness. Others may buy the device without realizing that the devices do not offer the same accuracy as a real sympto-thermal method. They don't offer the close instruction that many women with troubling cycles may need (especially those confusing cycles that can happen post-pill).
Natural Cycles costs around $10 per month, or around $80 annually, while Daysy costs several hundred dollars. Neither app takes into account cervical mucus (the thing that keeps sperm alive, ie what allows pregnancy to occur). It is beyond me why they don't think to educate women about this vital fertility sign, but it is my belief that women should be fully informed and able to interpret their own fertility signs. These devices don't promote empowerment, but instead ask for women to blindly rely on femtech devices. It is easy to be misled by advertisements, and women may not run into many peer-reviewed studies if they aren't looking. Recent studies have shed light on the true efficacy of devices like Daysy. Click here to read about a recent incident regarding how Daysy is misleading (and here to read the peer-reviewed study) regarding the efficacy.
Natural Cycles is very open about its 93% typical use efficacy rating, but why would women pay ten dollars a month for a lower efficacy than what they could achieve by working with an instructor? I think that sometimes when women buy these devices they have come into charting with little knowledge of their own fertility and may feel that they can trust technology over their own interpretations of their fertility. Ladies, we are smart. With a little help and guidance, we can learn to determine our own fertile windows with a more reliable method than this device. Fertility awareness can be really empowering, and knowing your own body is a fantastic feeling.
When women are taught by an instructor, the sympto-thermal method typical use efficacy rating is 98.2% (self-learning has not been studied for efficacy). By working under an instructor, women can achieve self-reliance when it comes to interpreting their cycle. Instructors can help clear up tricky charts, and help women understand their own cervical mucus. A one time investment in instruction can provide a woman with years of reliable birth control. After a major life event like the birth of a baby or during times of hormonal change, women may need support with charting again. Otherwise, learning how to chart can serve a woman until menopause. Finding an instructor and buying a reasonably priced thermometer is both cheaper and more empowering than using a femtech device.
So, what's my point?
Ditch the femtech.
You can learn NFP, and you can do it on a budget without expensive devices (and it'll be a more reliable method of birth control).
In this next section, I'll show you the three first steps to get started.
The following advice is geared more towards those trying to avoid pregnancy or trying to achieve pregnancy without any special circumstances (not recently postpartum, breastfeeding). I also only point towards sympto-thermal resources. Look for a future post geared towards those charting with special circumstances.
Step 1: Find an Instructor
Symptopro and Couple to Couple League offer very reasonably priced courses that can be taken online or through video chat / phone calls. Both of these offer instructor support (all of these courses are around $75-$150, but rates may vary for individual teachers). These two organizations also offer their own app (or website) to use with the method.
Besides the organizations I listed, there are also many freelance NFP teachers. FAMBC offers a list of instructors. You may also stumble on a few on Instagram by searching for things like #naturalfamilyplanning and #fertilityawareness.
I have plans to offer services that are affordable to someone who makes minimum wage. My basic charting help and course will cost $75. It is my belief that all women should be able to afford to learn how to interpret their own fertility. It is such a vital skill for navigating our lives. If you would like to work with me when my courses open in the September 2019, please fill out this —> form <—
You may wonder why anyone would pay for an instructor if it is possible to self-teach. When I first started charting, I didn't know that the perfect efficacy rating of NFP was based on the Sensiplan study which followed people who had been taught by an instructor. Women who are self taught and lack a community may not reach the perfect efficacy level. Similarly, when women trust femtech devices blindly, it may result in less than perfect efficacy rates. When women are taught by an instructor, the sympto-thermal method typical use rate is 98.2%.
Step 2: Get a Thermometer
If you are looking for a thermometer, any basal body temperature (BBT) thermometer will do. Just make sure that it is not a fever thermometer. The precision of the BBT thermometer is necessary. Check your local pharmacies or look online. My personal favorite thermometer is the iSnow. It holds sixty temperatures, has a backlight, an alarm, and a pretty quiet beep. You can find multiple versions of it in the twenty dollar price range.
If you want a cheap thermometer without a backlight, the mabis is great. This was my first thermometer.
You can also use a glass BBT. These take a little longer to take your temperature. Check for them in stores near you or online.
3. Pick an App / Way to Chart
If your method doesn't come with an app, check out my blog post "Top 3 Fertility Awareness Mobile Charting Apps" to help you decide which one is right for you.
Look into paper charting. Pen and Paper Fertility releases some great journals. You can also find some free charts to download on TCOYF's website.
You can also try spreadsheet charting. Look for my blog post on how to get started with Google Sheets.